1982-1983
Emmy Nomination
Outstanding Actress in a Supporting Role in a Daytime Series
As "Liza Colby" on ABC's All My Children
1983-1984
Emmy Nomination
Outstanding Actress in a Supporting Role in a Daytime Series
As "Liza Colby" on ABC's All My Children
1986-1987
Emmy Nomination
Outstanding Lead Actress in a Daytime Series
As "Eden Capwell" on NBC's Santa Barbara
1987-1988
Emmy Nomination
Outstanding Lead Actress in a Daytime Series
As "Eden Capwell" on NBC's Santa Barbara
1988-1989
Emmy Award Winner
Outstanding Lead Actress in a Daytime Series
As "Eden Capwell" on NBC's Santa Barbara
Acceptance Speech:
"Oh my God! Umm Thank you! First because I never had the opportunity to do so I would really love to thank the people that I worked with on All My Children. They taught me about respect for your fellow actor and integrity in the work and I really thank each and everyone of you because I never would have admired or understood to admire the people I work with everyday on Santa Barbara. They are generous and giving and I admire and respect them. Thank you Jed Allen, Judith McConnell and A Martinez, you are brilliant and I love working with you (almost crying). To our directors and NBC New World.
And Stephen, I love you, you taught me, we can have joy and laughter and a son who sleeps the night. Thank you so much."
Soap Opera Digest Award Winner
Outstanding Heroine
As "Eden Capwell" on NBC's Santa Barbara
Dress: maternity outfit
Acceptance Speech:
"Oh my Goodness. I am so happy. Thank you very very much. To Soap Opera Digest to Jill Phelps and Brian Frons, Susan Lee. Most of all to A, who I love very very much. And who has given me a world of opportunitiES that I hope we have just (hesitates) explode on. I hope that in like 3 weeks I'll be a real heroine and it will go pleasantly."
1989-1990
Soap Opera Digest Award Winner
Outstanding Lead Actress
For "Eden Capwell" on NBC's Santa Barbara
Dress: long black dress
Acceptance speech:
"I, I would like to thank the fans and Meredith Berlin for all these honors and the acknowledgement of our show and for me and my family and my friends. And I certainly would not be half the person that I am without the love of Stephan and our son Taylor, so I really want to thank them. And the producers and the writer and all the people that I get to work with. It's such an honor to have the support and the inspiration from them and from my peers. So I thank alf of you very much."
Soap Opera Digest Award Winner
Outstanding Supercouple
Along with A Martinez for Santa Barbara's Eden and Cruz
Soap Opera Digest Award Winner
Outstanding storyline
Eden's rape (Granted, she didn't write it, but she had to play the part)
1991-1992
Soap Opera Digest Award Winner
Best Death Scene
Eden's death
Best death scene - Marcy Walker (Eden Castillo, SB)
Clothing: sleek, dressy black skirt suit
[as they were announcing the winner, Marcy leaned over and talked to an auburn haired woman next to her, Mary Anderson. When her name was announced, she had this look like "uh huh" When Marj Dusay anounced the winner, she said the character's name ca-still-oh instead of cah-stee-yo]
("oh, this kills me" with a smile as she is walking up to the podium)
"This is really amazing. I would like to thank the editors of Soap
Opera Digest and the fans, and Bridget and Jerry Dobson, my dear friend Mary Anderson for her love and support, and A Martinez - I would go off a cliff for you any time. [he mouthed something like "no problem"] And to all of you, thank you very much."
1996-1997
Soap Opera Digest Award Winner
Best Supporting Actress
For "Liza Colby" on ABC's All My Children
Acceptance Speech:
"Thank you so much. I was on the plane the other night and there were some other very prominent celebrities not in television on the plane, and all the stewards and stewardesses were paying attention to me. And I thought how lucky we are that our fans are accessible to us and they feel that we're acessible to them, that there is no velvet rope keeping them from us. so thank you for this. To the editors and staff at Soap Opera Digest, to David Canary, who is a miracle of human nature, he is God's gift to the acting world, and to my mother, Jennifer Bassey, on TV. She calls me her sunbeam, but she is the sun. I love you wherever you are. Thank you. I'll cherish this."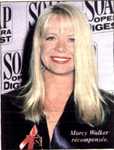 1996-1997
Soap Opera Update Award Nomination
Best Supporting Actress
For "Liza Colby" on ABC's All My Children
"Winning Ain't Everything"
Ask Marcy Walker what she hopes to teach her son, Taylor, and she will answer with a story. "I went to an awards event, and it was the first time I had ever taken him to anything like that. Someone else won in my category and I didn't think anything of it, but he looked at me kind of sad, and he said to me 'I wish you would have won.' I told him, "But I am always a winner, because I have you.' Losing in front of him was the best gift I could have ever gotten," she says, "because he realized that I'm not always invinclible to him, but I was still happy - I didn't crumble, and i didn't cry, because I have my family, and that's the most important thing. He was thrilled to have the tables turned, to be able to say, 'I'm sorry you didn't win.' He got to be the parent for a minute. It was a wonderful lesson."
2000/2001
Daytime Emmy Awards
Best Actress in a Leading Role
For "Liza Colby" on ABC's All My Children
SOD May 22, 2001
EMMY DISH - What's it like to be a Daytime Emmy nominee? Digest chatted with the chosen ones about everything from the atmosphere on the set when the nominations come out to award-show attire - and even whether they prepared an acceptance speech...just in case.
DIGEST: How do you feel about AMC receiving so many nominations?
WALKER: I said to [Supervising Producer Ginger Smith], "Do you think there will be people there who will not hate us?" It's hard when you see so many people being honored from one show. We were very blessed.
DIGEST: What do you think was your best work?
WALKER: The courtroom stuff where Jake realizes the baby isn't his.
DIGEST: How does it feel to compete with two co-stars?
WALKER: I was on the show many, many years ago, and I used to look at Julia Barr [Brooke] and Susan Lucci [Erica] in awe. I used to watch them because I respected them, and I respected their professionalism and I respected their work. So, to be in a category with them, I hope it means that I belong. I feel like this is a true acknowledgement. And Martha Byrne [Lily/Rose, ATWT] has been someone I've watched for years. It's funny, I'm a little nervous to even get into a conversaton with her because I've watched her work for so many years and I have such a great deal of respect for her. And Susan Flannery [Stephanie, B&B], as well. I'm honored and I'm humbled.